Sitting has been classified as the new smoking. The average office worker sits for 10 hours per day between work and home life.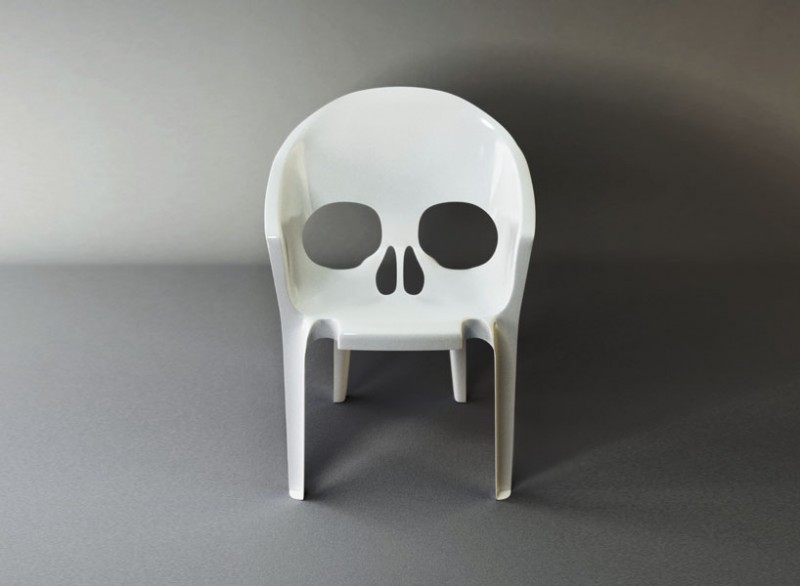 Prolonged sitting for 6 hours or more per day has been likened to smoking the equivalent of 1 and 1/4 packets of cigarettes. Don't think that if you are a healthy weight that this is not true for you! Also don't think that if you spent an hour at the gym before or after work that this isn't true for you either.
The workplace can easily be a sedentary lifestyle, particularly if you are bound to a desk or computer the majority of the day - whether in the office or at home. With sitting defined as the new smoking, we are busy tapping away on our key boards and slowly killing ourselves.
The likelihood of diabetes, heart disease and even depression are all increased in populations that spend large amounts of time sitting for extended periods of time.
Mindful now of spending many hours behind a desk myself and knowing the impact of poor health on prescription consumption (from my life as a pharmacist) I certainly know what I don't want. Whilst in the past I may have been a mild gym junkie, since having kids my priorities changed. I kidded myself for many years that whilst I still sporadically exercised, that one day I would get back to that person I used to be.
One of the best gifts I have ever received was my Fitbit (probably just after an iPhone). Having my Fitbit gave me AWARENESS. Whilst I knew that I was nowhere near getting the recommended 10 000 or more steps per day, I didn't realize how few I was doing. Since getting my Fitbit, I can't say I have ever found out. Since Christmas 2014, I consistently strive for my 10 000 plus steps per day. My Fitbit is my conscience!
I have also started to integrate other daily activities into my work day to ensure I mind my health. I have a couple of apps that remind me at set intervals to stand up or to move. The Move app tells you a random activity to do each time which mixes things up and can help with your strength - it may be planking, crunches or going up stairs. The other app called Stand Up simply reminds you to stand up.
Activating the major muscle groups in the legs is imperative to countering the effects of sitting. Extended sitting encourages plaque deposits to lay down in the lining of your blood vessels which ultimately causes hardening and narrowing leading to blood pressure, heart problems and even clots.
It is recommended that the major muscles be activated every 30 minutes - even a quick stand and include 3 or 4 squats to keep the blood circulating. This will help keep your metabolism going which tends to go to sleep after 30 minutes of sitting. It is easy to fit in as you can do this even while you are on a call.
I have a treadmill in my office that I can get on at anytime. Some days I will attend my teleconference calls whilst I am on it, perhaps do a 'walking' meeting or use that time to watch a training webinar or read.
The benefit of working from home means I can do my random Move activities at anytime and can often spend the day in my sneakers.
Tricks in the office setting may mean taking an opportunity to go on a walking meeting - either around the office or outside. Walking meetings often help with clearer thinking due to the improved blood flow to the head and the change of scenery.
No matter where your desk is you can substitute a fit ball for your chair for part of the day. This is also great for activating those major muscle groups.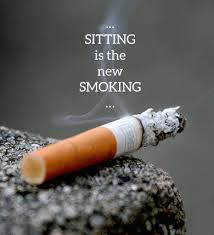 I even keep a hand weight on my desk that I lift from time to time to work on my upper body strength and helps with the shoulder tension that gathers from working behind a computer for extended periods.
Check the back of your neck for a protruding vertebrae. If you notice one then it is time to realign your posture before you end up looking like the better cousin of the Hunchback of Notre Dame.
I love the quote 'Good Health is a crown that is worn on the healthy that only the ill can see'. Remember this and reconsider those stationery desk hours. A simple few minutes spent throughout the day to stretch your legs will certainly help you keep your health. Many of the conditions associated with a sedentary lifestyle can be hard if not impossible to reverse.
Your small daily habits over time make the big differences. Take the time now to create some new ones that your future self will thank you for.