It is estimated that by the year 2020, half of the total workforce will be virtual workers. Already those that work at a face to face level still spend time working virtually due to the accessibility that comes with mobile devices.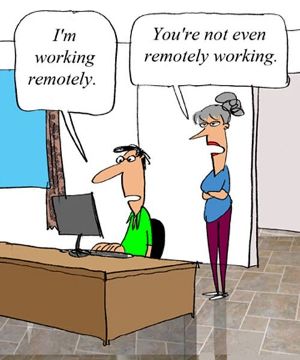 The good news is that many workers are more productive when they work virtually. There is more productive time available as the commute is no longer part of the daily grind. You also lose the stress of the drive if you let traffic irritate you.
Many jobs are suited to virtual working, including professional roles such as accountants and designers. Any instance where phone, email and computer work can be performed entails a role where virtual working can be performed on a part time to full time basis.
Successful virtual working means being a motivated team member that can work well independently.
Vitally important is creating a work space in the home environment that is distraction free and conducive to working remotely. Some levels of self discipline are required to switch off from the usual home distractions which could be kids or partners at home, especially during the summer. Other distractions such as maintenance workers, the home phone, television, messaging, games and the lure of wifi based activities need to be controlled.
The benefit of remote working can also mean that you can set your own hours. This could be taking advantage of the kids being home during the summer, doing daytime activities with them and then spend time working in the evenings or early morning.
Mix up your work space by using different parts of the house or even going to the local library or coffee shop. This can help with creativity and bolster memory. A change of environment can stimulate you in different ways so if you find yourself stuck on a problem, take a short break and move location.
Virtual working can also afford you better health. I utilize apps that remind me to get up and move every 45 minutes. Knowing that sitting is the new smoking, I am vitally aware that working behind a desk all day is not what my body was built for. One app I use called Move, reminds me to do an activity that may take 1 to 5 minutes. This means I can get up from my desk and do some crunches or a plank without misguided stares from office colleagues.
I also have a treadmill handy in my office that allows me to take a short or long break. I typically use this time to listen to a recorded webinar, do a 'walking meeting', read or take a break. The importance of circulating our blood in this way means my brain gets a boost and so does my health and well being.
Becoming aware of your more productive time and use it to your advantage. If you work best early in the morning you can do two or three hours work before your phone starts ringing or the emails start to arrive. If you work better in the evening you can take some time during the day for other activities.
Be sure to set some boundaries to make your virtual work life work in order to thrive in this environment.
Be aware of..
Feeling like you are on an island. Working virtually can be very freeing in many ways but it can leave you at times being isolated. It is important to not just rely on messaging and email, don't forget to pick up the phone.
As social creatures you may enjoy spending time in the office with co workers once a week. When this is not available readily, utilizing tools such as skype or face time as well as using cameras during a virtual meeting can help boost the social connection.
From personal experience, it is also beneficial to connect with others through local meet up groups, chambers of commerce or other such groups. Connecting with like minded individuals at a social and professional level, allows you to share ideas, experiences and potentially find new opportunities for your business. There are often a wide variety of groups that meet at different times to work in with your schedule.
Don't allow virtual working to take over your life. Because you can be accessible 24 7, doesn't mean you have to be. Set boundaries for yourself around when you respond to emails, calls and messages so that you don't find yourself disconnecting from those around you.
As a virtual worker, tune into what you enjoy about the experience and make sure you keep connected in more ways than just virtually! Ensure you make your work life work for you, your family and your business.