With distractibility at an all time high, thanks to the availability of the internet and mobile devices, our ability to engage in what we are doing is becoming increasingly challenging.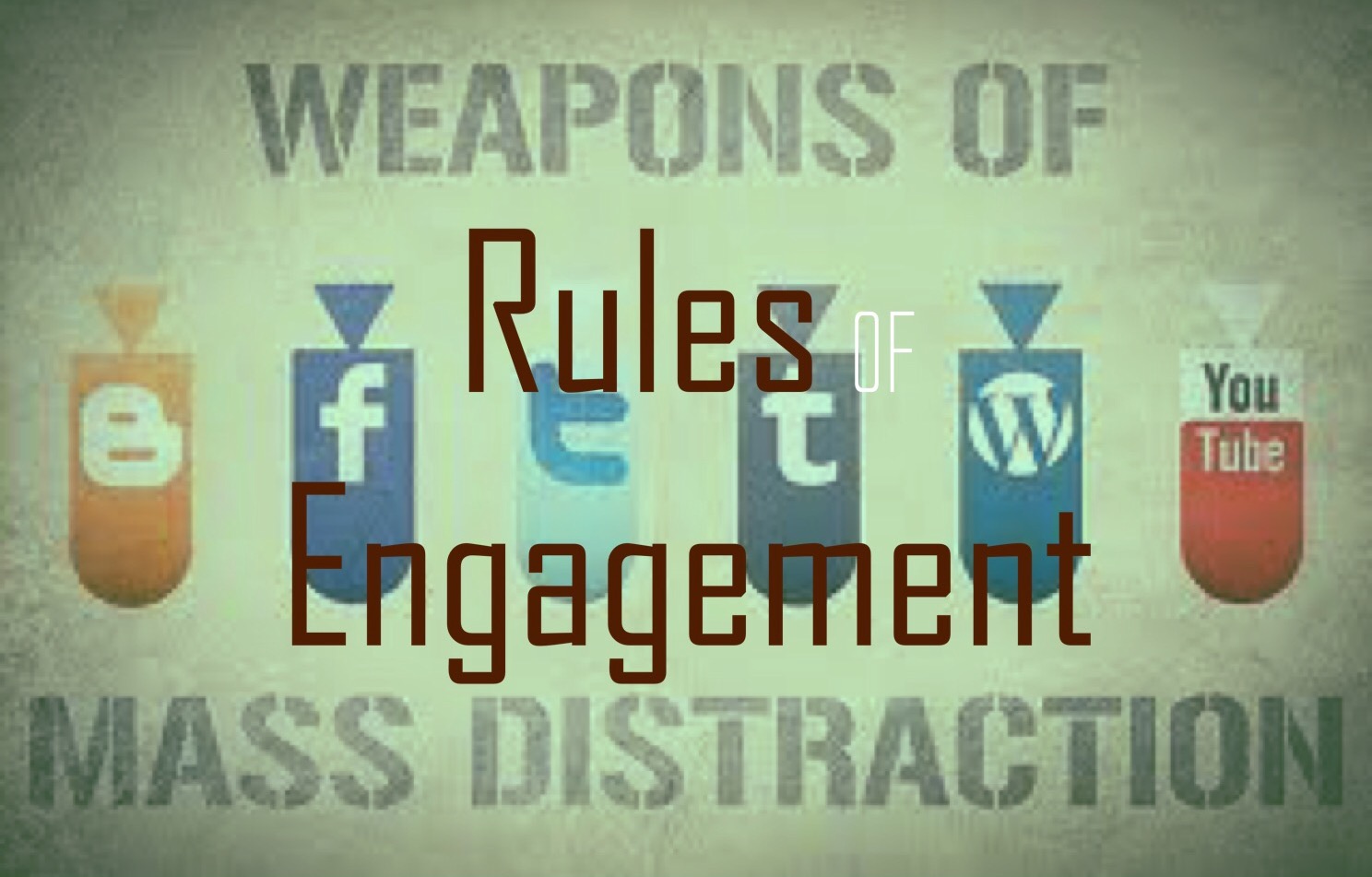 US businesses alone are potentially losing 2 hours or more per day, on average, per worker, in lost productivity due to distraction. Added up across all the workers in the country and that is some serious dollars!
Applying distraction to our personal lives also, we are beginning to lose connection with the real people in our daily lives, taking them more for granted.
There is a need for many to create Rules of Engagement for our attention so we can reconnect with our life, work and relationships.
The Rules of Engagement
Creating philosophies around how you want to live your life can help you gain focus around what deserves your attention. Instead of letting distractions happen to you let them happen WITH you in your time and on YOUR conditions.
You can't change what you don't notice so the first job is to notice when and how you are distracted. Allow yourself to be aware of your distractions for one day. Make a list at the start of the day with headings for all your major distractions - social media, pop up notifications, IM, emails, phone calls, office interruptions and fires that need to be put out. Put a tally mark under each item for every distraction, no matter how small. Becoming aware of exactly how often things are distracting you will help you begin to moderate them, starting with the biggest offenders.
It is hard to manage what you don't measure!
Minimize your distractions once you identify the biggest culprits. Set aside a reward break for checking your social media after you have worked solidly for a period of time. Better still, stand up and walk around while you do it to enable the blood to re-energize your brain for your next focussed session. Apps are available to help provide timers to keep you on task such as Pomodoro. Focus Lock is available on Android to help you lock yourself out of some of your most distracting apps.
Train your brain to refocus through attention training. Take a minimum of 2 minutes to focus on just your breath. Do this several times a day and you will win back rewards in time through your increased ability to focus. Teaching your brain to stay on track with one thought is like growing it's muscle.
If you are on one device, don't use another. If you are on your computer, on a webinar, teleconference or watching TV don't be using another device at the same time. Also avoid multi using your device such as talking on the phone and surfing your social media at the same time. Our brains are smart enough to know when someone is not fully paying attention to us, even through a phone line.
Create rules around device usage while socializing. Do you find yourself checking your device each time it beeps or vibrates? When you are talking to others at work or in social situations, avoid using your device. Excuse yourself when you can no longer fight that burning need to check your phone, it's just good manners. If you are in a store, don't use your device while you are being served.
All our conversations become more meaningful and enjoyable when those involved are fully present. You don't want to get to a point in a friendship where you suddenly find out your friend, partner or children have checked out while you didn't notice. This check out could be permanent as we may not realize how big our relationship with our device has become.
Role modelling for our families. If you are a parent, your children learn their behavior from you. If you don't want your kids to be using their devices while talking to you then don't use yours. Make sure you have some 'down time' off your device and talk about how it makes you feel. In my family, we create 'Amish time' where we don't have devices for a day or afternoon and see what fun things exist in the real world. The last time I did this with my kids, they created an indoor fort that took up half the living room. Imaginations intact!
No devices when you are eating or drinking. Again this comes back to multi tasking as we can truly only focus on one thing at a time. By using your device while during meals you are mindlessly eating. Dividing our attention like that makes neither task more enjoyable. Use your meal time to train your brain further by noticing the smell, texture and flavor of your food. In fact you can use all five senses.
Tell those near and dear to you that you are working on reducing your distractions. Let them support you in becoming more present and more productive. They can give you gentle reminders to keep you on track and you may motivate them to be more present or focussed when they are interacting with you.
Life is for living and distractions are removing our focus from being fully present. Our lack of presence is also fuelling higher stress levels in our lives as our minds work on overdrive. Stop kidding yourself and saying you will learn to focus more tomorrow. There is no time like now. So get outside your comfort zone, say no to some of your distractions and see how you engage more fully in your work, life and relationships.