In today's technological world it is hard to switch off from distraction. Our phones and tablets keep us connected constantly in our waking hours. When we consider how available we are now, it is difficult to know when to truly switch off.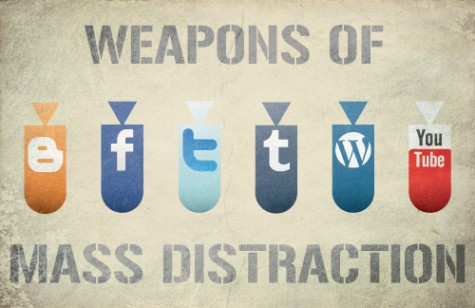 Our inability to switch off is leaving us constantly distracted, being less able to pay attention, or find it harder to focus on the task at hand. Sometimes we use distractions for entertainment or amusement when we are procrastinating or looking for a reason to avoid our stresses or worries.
What are the real costs of all this distraction?
In 2007 Basex did a study that estimated distractions were costing US businesses $588 billion. This was before the ready availability of smartphones and tablets. I am sure the numbers now could be significantly higher.
Given that each time we change tasks it can take several seconds to several minutes to refocus, large chunks of time are being lost each day. Workers can be interrupted 5 to 10 times or more an hour through pop ups, email alerts, smart phone notifications and calls, noise or co-workers. It has been estimated that the average worker loses 2 hours per day to distractions. Even in a small team of 10 that equates to 20 hours per day or the equivalent of 3 workers!
Somehow in the last decade, we have become addicted to our devices. For the average adult, the internet serves as a leisure time activity 30% of the time. Along with our desire for social connectedness we are able to connect globally at anytime of the day or night. The internet does not sleep.
Not only do we watch TV now, we watch TV and surf the net or social media channels at the same time. No wonder our attention is suffering. Guilty!
Constant distraction takes a toll on the brain. Our ability to think through higher level tasks is more challenging as our brain adjusts to a more rote learning style, ideally suited for assembly line work. If you require higher level thinking in your role or your aspiring role it is time to stop being distracted.
How can we fix it?
We can use the science of the marshmallow experiment to re-educate our brain about the benefits of delayed gratification and self control. The marshmallow experiment exposed 4 year olds to 1 treat now or 2 treats if they waited. Those that waited had a higher level of pre frontal cortex activity (where all the high level thinking happens) and were more successful later in life than those that were impulsive.
Knowing that if you wait to check your messages later, there may be more, enables you to strengthen your resolve to not check your messages each time your phone vibrates.
Your brain is like a muscle that can be flexed and enable you to regain control over where it's attention goes.
You can start by setting some rules around your device usage. You can use technology even to help you! There are some apps that are available that can lock you out of selected apps such as social media for a period of time. Focus Lock is one of those - only developed for Android right now. I am waiting for the Apple equivalent.
Use other apps to set yourself a time to focus on a task and not allow yourself to be distracted. Turning off email, vibrations or sounds, blocking pop ups and logging out of different applications all work. You can also schedule time for email and phone calls, preferably in your less productive times of the day.
Set rules not to use or check your phone when you are interacting with others or when you are doing teleconferences or webinars! You know you all do it.
Set an intention for how you want to use your device and take back control. Don't respond to every message or email as soon as it comes in. Schedule time to address these, in YOUR time.
Meditation is slowly becoming more accepted, often referred to as mindfulness now. Take away the images of Tibetan monks and look at it instead as attention training. Mindfulness, with regular practice, can in a number of weeks begin to increase the grey matter in the higher thinking parts of your brain, helping you increase focus and concentration.
Focussing on your breath while being mindful, gives your internal organs a massage as well as your vagus nerve. What this means is that good things are happening inside you.
If you don't have time for 10 minutes, start with 2 minutes. If you have 2 hours a day to be distracted you can surely find 2 minutes to help you regain control of your own mind. And if you can't do it without technology - there's an app for that too!